Technology Expertise at its best, with over 2 decades of proven support experience in computer service, networks, virus removal, multimedia and web design.

Technology Crew
Our consultants and technicians have expertise in all current and emerging technologies.
Formerly an Apple and Windows Computer
Repair Service

KNOWLEDGEABLE
PROFESSIONAL
FAST SERVICE
John, the "Techdude" formed the company in 1994.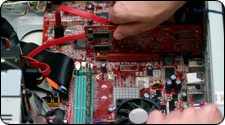 After over 30 years as a professional computer service technician, I have decicided to permanenetly close Just Call Techdude! computer service/repair. Now that I have reached retirement age, I want a quieter, simpler life that focuses more on my personal passions and family. I wish to thank all of my past customers for their support of my business.This site will continue to remain active only for information, archival and historical purposes.